What The Critics Are Saying . . .
___________________________________________________________________
"MOODTAPES transport you to lucious locales . . . decorate your home . . . and entertain your guests! They appeal to all crowds . . . they're terrific!" - ENTERTAINMENT TONIGHT
"FOR THOSE LOCKED BUMPER TO BUPER ON LIFE'S HIGH STRESS HIGHWAY, A DETOUR IS AT HAND: MOODTAPES! . .. E-zzzzzz listening music and artfully mixed "POSTCARD" pictures carry you off into the sunset!" -
PEOPLE MAGAZINE
"THE VIEWER BECOMES ENTRANCED BY SPECTACULAR BEAUTY AND LULLED BY THE PEACEFUL MUSIC . . . SPIRITUAL!" - NEW YORK TIMES

"IT WOULD BE HARD TO FIND ANY PROGRAMMING MORE RELAXING!" - LOS ANGELES TIMES

"A 'BEST BET' GIFT IDEA!" - BLOOMINGDALE'S

"GORGEOUSLY SHOT AND SPLENDIDLY EDITED . . . BREATHTAKING OUTDOOR SCENES!" - VIDEO SOFTWARE MAGAZINE

"TAKE A BREAK FROM THE STRESS OF EVERYDAY LIFE OR ADD SOME DREAMY BACKGROUNDS TO A NIGHT OF ROMANCE!" - STAR MAGAZINE

"VIDEO ARTWORK WITH CURATIVE EFFECTS . . . REAL STRESS BUSTERS THAT WON'T BUST YOUR BUDGET!" - USA TODAY

"SERENE LANDSCAPES AND BLISSFUL MUSIC PUT YOU IN THE MOOD!" - VIDEO EXTRA MAGAZINE

"CREATES A SOOTHING ATMOSPHERE!" - BILLBOARD MAGAZINE

"THEY'RE EVERYTHING YOU WANT TO RELAX AND UNWIND!" - FOX TV NETWORK

"TRULY SPECIAL VIDEOS THAT MAKE A GREAT PERSONAL GIFT!" - ABC'S MIKE & MATY

"A TERRIFIC IDEA! . . . Highly produced and very unique!" - BUSINESS CHANNEL

"THE COMBO OF MUSIC AND BEAUTY OF NATURE IS VERY CALMING AND SOOTHING . . . SOMETIMES YOU NEED TO BE REMINDED THERE'S A BEAUTIFUL WORLD OUT THERE!" - GANNET NEWSPAPERS

What The Public Is Saying . . .
___________________________________________________________________
" MOODTAPES are a sea of tranquility in a world gone to chaos. Thank you for bringing so much beauty into all of our lives!"- R. Perry, Account Executive

"YOUR WORK IS UPBEAT, REFRESHING, RELAXING, AND SO VERY POSITIVE ABOUT THE IMPORTANCE, BEAUTY, AND VITALITY OF NATURE AND LIFE ITSELF. . . . KEEP UP THE GOOD WORK!" - R. Keese, Longview, Texas

"I AM SO PLEASED WITH MOODTAPES that I felt I had to write you a letter. I use them in all my treatment rooms and I have found that my patients are substantially more relaxed!" - Dr. B.F. Zide

" MOODTAPES are utilized in our stress management groups . . . thanks for your concern. . . . We appreciate you!" -
Collin County Women's Shelter

"THANK YOU FOR THE MANY HOURS OF PLEASURE YOU HAVE GIVEN US WITH YOUR MOODTAPES . . . they are our favorite of all the tapes we have!" - The Cottoms, Lakeside, California

"I DON'T WRITE LETTERS REGARDING GOODS AND SERVICES UNLESS THERE IS SOMETHING VERY SPECIAL ABOUT THEM. YOUR MOODTAPES are magical . . . when I play them I am mentally transported to a more comfortable place!" - M. Weis, Laguna Hills, California

" MOODTAPES are peaceful, relaxing, and highly enjoyable. When I watched them in the hospital recently I relaxed enough that the muscle spasms in my fractured back would lessen substantially . . . and my blood pressure went down. I highly recommend them!" - R. Shields, Metairie, Louisiana

"I'M A PSYCHIATRIC NURSE AND I CAN'T TELL YOU HOW MUCH I APPRECIATE MOODTAPES . . . they make my job easier!" - K. Fuchs, Sacramento, California

" MOODTAPES have been a most positive addition to our program . . . they allow the youngsters the time and space to learn to relax!" - P. Caliendo, Kids Special Education

"IT'S SO NICE TO LOOK AT GOD'S HANDIWORK IN YOUR TAPES . . . THE NATURE SCENES ARE REALLY BEAUTIFUL!" - K. Straner, Palatka, Florida

" MOODTAPES are much appreciated by our patients . . . and their loved ones!" - Sister O'Neill, Calvery Hospital

"DELIGHTED WITH MY FIRST MOODTAPE. . . . Now I know why I have a DVD!" - F. Hylton, age 77
Moodtapes Soothing Original Instrumental Music Charts "Top Twenty" Coast To Coast!
___________________________________________________________________
MOODTAPES Soothing Instrumental Music Selected By Largest "New Adult Contemporary" Radio
Syndicate ... Los Angeles Based "The Wave"... For Heavy Rotation Coast To Coast!
"Musical Starstreams" & "The Breeze" ...National Adult Contemporary Radio Networks Of Over Five Hundred Stations ... Choose MOODTAPES For "Round The Clock Airplay"!
THE CRITICS ARE UNANIMOUS!
"Distinctive Melodies And Soothing Rhythms... Our Audience Response Was Terrific...
They Really Loved The Beautiful Sounds!" SOUNDSCAPES SYNDICATE
"A Positive Sounding, Enjoyable Musical Experience!" FMQB ALBUM REPORT
"Pleasant, Upbeat, And Exhilarating ... A Real Treat For The Listener!" THE MAC REPORT
"We're Always Looking For Music That Has That Special Quality...MOODTAPES Are A Hit!" WAVE NETWORK

International Awards of Achievement & Recognition...
___________________________________________________________________

The American Film Institute & Billboard Magazine Award
The US / International Film and Video Award
The US / International "GOLD CAMERA AWARD"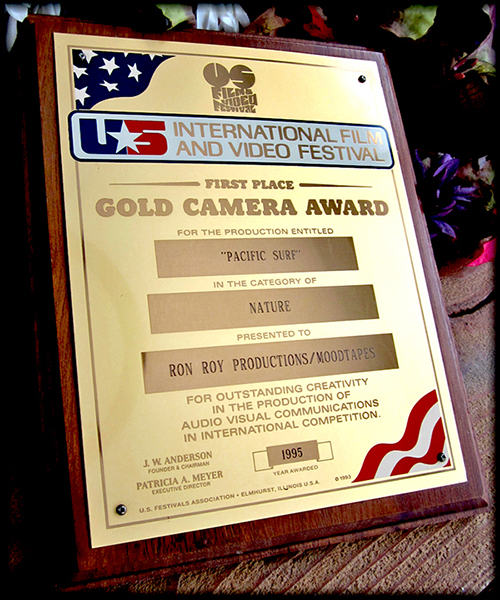 and
Five International "TELLY" Awards